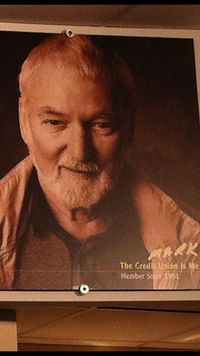 On April 23rd in 2014, my Dad died.
It was the year of the big ice storm and, I will say, not my favourite Christmas ever. No one was in their homes, it was so cold and confusing and was not the best 'last' Christmas to have with Dad.
I have been thinking of him so much lately, wondering just how unamused he would be by being unable to watch hockey and curling. Unable to go out. I think of him all the time really, every time I need a match. It's funny the things you want to keep when you lose someone. I have an odd collection of ties, keys, endless watches, for some reason, and matches. I am a bit of a squirreler awayer, like my Dad, so I inherited his eclectic collection of little chattels. And many posters from his days as at lithographer. He had a great eye and taught me how to see things. I always told him he was an artist, he always said he was a tradesmen.
We were both right.
I also really appreciate the slice of our history and this city's history that the matches bring to life. Weddings and anniversaries. Cottage country keepsakes. Scarborough hot spots like O'Tooles and Watt's. And the downtown Toronto 70's/80's era finds bring back beautiful memories.
Our family loved restaurants. My parents raised us in every ethnically diverse restaurant they could find. I don't remember ever not knowing how to use chopsticks. We would often be the only white family in the Chinese restaurants in the Midland/Sheppard area. When my Dad discovered the Russian restaurant Barmalay's at Bay and Elm, we tried to go there with everyone. It was a wild ride, very fun.
And the matches from the Big Bop! Ha. Probably from when Mom and Dad came to see me play upstairs at Holy Joe's. Match book memory ephemera. It's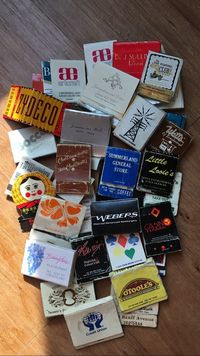 just a whole other way of remembering, very decade specific. When I see matches these days I grab them almost nostalgically.
The picture of my Dad, one of my favourites, used to hang- may very well still hang- from the ceiling at Alterna Credit Union out in Scarborough. Fitting. Dad grew up on the Danforth, married a gal from Timmins and made a great life for a fortunate brood of kids in the just-starting-to-grow suburbial Scarborough. I always liked that his beautiful, cheery smile welcomed people in a the heartland of Scarborough.
The internet often thinks I am from Timmins. People often think it's Toronto proper. When I correct them I say I am a proud Scarb.
Thanks Dad. I miss you so much, we all do. XO